Finding the perfect dress for an apple shaped body type
All women want to look their best especially on special occasions like prom and homecoming. A big part of the process of finding the perfect dress is to know what type of body you have. Once you are aware of your body type, you can dress it to its best advantage.
One body type is called the apple-shaped body. Unlike the pear-shaped body which is generally thin up top and heavier in the hips and thigh area, the apple-shaped body is mainly thin in the arms and legs and thicker in the mid-section with a fuller bust. Often, the apple is one or two sizes larger on the top than the bottom. The apple-shaped woman should avoid wearing skinny pants which would accentuate the larger mid-section. She can get away with tapered ankles if worn with a long tunic-type top that flares out. She should avoid ruffles, pleated pants, and tight-fitting skirts. If you are dressing for a special event a formal empire waist dress is a great camouflage for the apple-shaped body. The empire waist is under the bust line tricking the eye to seeing a narrower waist. It creates an even more visually pleasing look when paired with an a-line skirt that flows away from the body and a deep v-neck top to bring your eye to her face. This type of dress also solves the problem of the size difference between the top and bottom with a much better fit that is flattering.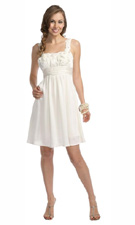 See how the shirred empire waist and loose fitting skirt
compliments your shape in this adorable short dress.
Available in many colors this short dress is perfect for prom, homecoming, or graduation.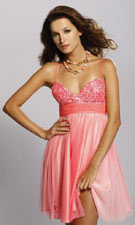 Set the stage for a perfect evening in this dazzling short dress.
A sparkling sequin bust line, ruched empire waist and a flirty short skirt
gives this homecoming dress a look that you will love.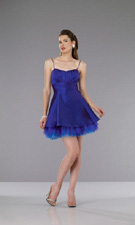 Bright and on trend this short formal dress features thin spaghetti straps,
a flattering empire waist, and a festive short A-line skirt with a festive tulle underlay.
---

dress, formal dress, empire waist dress, apple shaped body type, special occasion