Our Fashion Choice - Pink Homecoming Dress by Kitty
Looking for a homecoming or semi-formal dress that will add sparkle to your night?
This pink homecoming dress
features a V-shaped neckline adds the just the right touch of sparkle. The full short skirt is fun and flirty and will look great on the dance floor.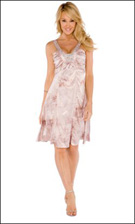 ---