The Little Black Dress
Gabrielle 'Coco' Channel was a pioneer in womens' fashions starting in the 1910's. Her innovative style freed women from the straight-laced uncomfortable stiff clothing worn previously. She furthered her successful, independent image through her designs which embodied her personality, confidence, and style.
In 1926 Coco introduced the 'little black dress' by publishing a picture of a simple black dress in Vogue. The dress was calf-length which was considered rather risqu for the times and accessible to women of all social classes. Vogue reported that the dress should be worn by all women of 'taste'. It soon was a fashion sensation.
The little black dress is now a classic look and a must for every woman's closet. Chic and simple, this fashion staple can take you from the office to an elegant evening cocktail party. Coco Channel always said that a woman should be two things, classy and fabulous, and the little black dress helps to make this possible. Today's dress designers agree and offer both classic and modern renditions of this popular dress in their latest collections.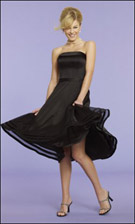 A stunning strapless little black dress featuring a knee length flared skirt
with satin cuff edging on the bodice.
Great for homecoming, prom, and bridesmaids!
This affordable little black dress with a low cut halter top will flatter your figure.
A feminine ruffle accenting the sleek cocktail length skirt is whimsical and flirty.
---

little black dress, black dress, cocktail party dresses, simple black dress